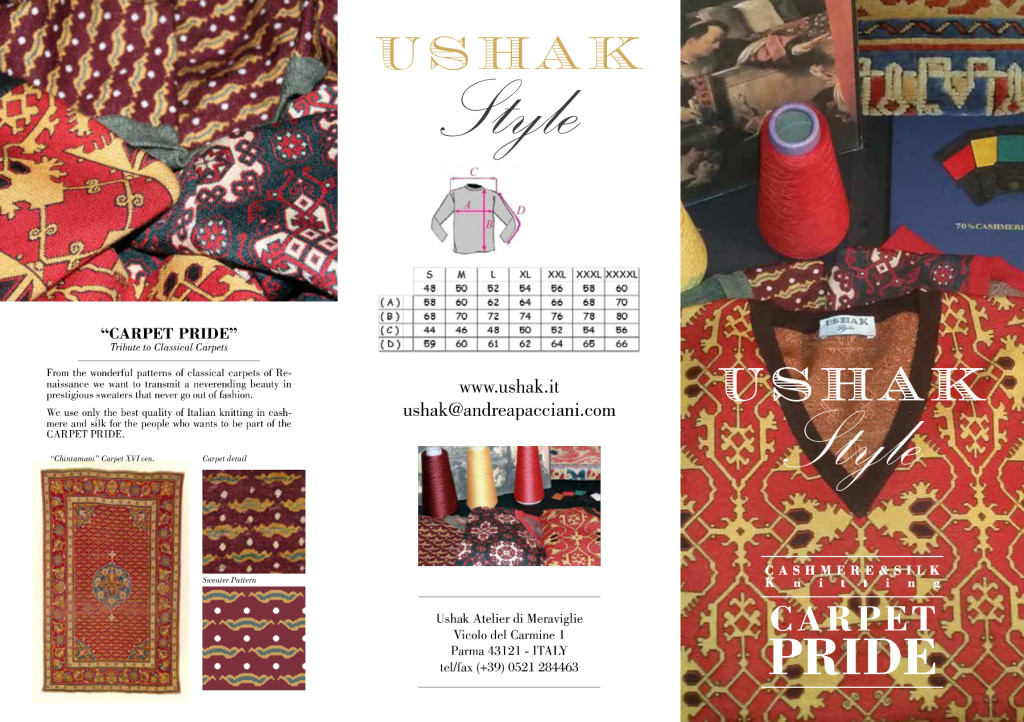 In preview the new initiative of Ushak Atelier of Wonders: Carpet Pride – knitwear of Ushak Style a tribute to Classical Carpets.
It's sweaters, vests and cardigans  Jacquard  knitted in 70% cashmere and 30% silk.
They are all made in Italy and hand-finished.
From the wonderful patterns of Classical Carpets we want to transmit a neverending beauty of those patterns in prestigious sweaters that never go out of fashion.
We use only the best quality of Italian knitting in cashmere and silk for the people who wants to be part of the Carpet Pride.
All Sizes, models and neck are available and can be customized.
They will be distributed since December 1, 2015 at the following prices:
Vest 140 eur
Sweater 280 eur
Cardigan 400 eur
For pre-order with delivery since December 1, 2015:
Vest 100 eur
Sweater 200 eur
Cardigan 280 eur
Multiple purchases (min 3 pieces) 15% off
Shipping cost: Italy 25 euro – Europe 30 euro – America 50 euro – Australia 50 euro.
Now you can book it at no cost in advance; payment will be made 50% at confirm of order and 50% before the delivery.
Finally we have fine garments for carpets lovers!
Andrea Pacciani
USHAK Atelier di Meraviglie